We can work with you audiologist or you can visit our office. Make sure to get your hearing checked at the same time you are getting your ear impressions. To ensure your custom in-ear monitor is a great fit, download and print our Ear Impressions Instructions (PDF) and bring it for your doctor before your visit.
Visit our chicago Office
Get Your Hearing checked & Your ear impressions for custom IEMs at the same time
Let our doctors help to protect your ear health at our Chicago office. Call 877.848.1714 for an appointment.
Sensaphonics Hearing Conservation
660 N. Milwaukee Avenue, Chicago, IL 60642 (Map It)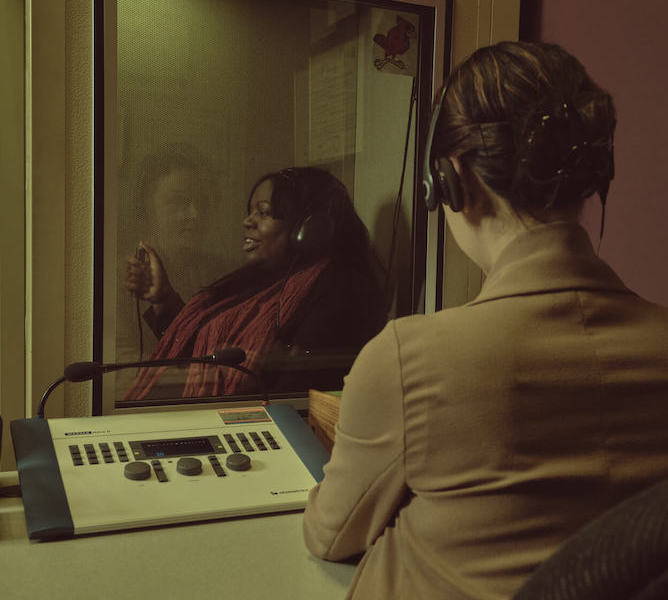 Nationwide Audiologists
When ordering Sensaphonics custom-fit products, we urge you to visit one of these fine audiologists for a hearing test and ear impressions. If your area is not listed here, contact us for an audiologist referral.
Ear Everything
L. Dawn Flinn

Birmingham
888-327-2131 – Email
Alabama ENT
Birmingham
205-985-7393
AUM Speech & Hearing
Montgomery
334-244-3408
Tinnitus & Hearing Center of Arizona
Allen W. Rohe, Au.D., F-AAA

Tempe
480-831-6159 – Email
Tri-City Audiology
Kay Kochman, Au.D.

Chandler
480-899-0076 – Email
Southwest Hearing Center
Bill Heob
Scottsdale
480-949-1541
Pinnacle Hearing
Mary Chatelain, Au.D.
Little Rock
501-225-6060
Musicians Hearing Services
Lisa Tannenbaum, MS, F-AAA

Beverly Hills
San Francisco
415-760-6837 – Email
Musicians Hearing Solutions
Julie Glick, Au.D., F-AAA

Beverly Hills
310-526-2236 – Email
Hearing Loss Solutions
Shahrzad Cohen, Au.D., CH-TM, FAAA

Sherman Oaks
818-989-9001 – Email
Pacific Hearing Service
Rachel Otto, Au.D.

Los Altos
650-941-0664 – Email
Love Hearing Services
Julia Shih

Pasadena
626-796-4535 – Email
San Diego Hearing Center
Blanche Blackington

San Diego
619-298-8546
Kaiser Permanente Hearing Center
Adam Lin, Au.D.

San Francisco
415-833-8222 – Email
Frances Miranda

Beverly Hills
310-237-1031
California Hearing Center
San Mateo
650-342-9449
The Audiology METHOD
Julie M. Link, Au.D.

Centennial
720-675-7481 – Email
Sound Relief Hearing Center
Drew Price, Au.D.

Denver
720-863-4366 – Email
George Cire

Littleton
303-885-5440 – Email
ProHealth Hearing Center
Lynn Firestone, Au.D.
Farmington
860-284-4940
University of Miami Ear Institute
Dana Libman, Au.D., F-AAA

Miami
305-243-1840 – Email
The Hearing Center
Margaret Richards, Au.D.

Pensacola
251-421-5226 – Email
UHealth at Plantation
Tricia Sheehan Scaglione, Au.D., F-AAA, CCC-A

Plantation
954-210-1073 – Email
Audiology Consultants of Boynton Beach
Boynton Beach
561-742-9880
UF Communicative Disorders – Speech and Hearing
Gainesville
352-265-6820
Miami Hearing and Speech Center
Miami, FL 33133
305-854-8171
Physicians Choice Hearing & Dizziness Center
Tampa
813-558-1477
Peachtree Hearing
Melissa Wikoff, Au.D.

Marietta
470-485-4327 – Email
Atlanta Hearing Associates
Decatur/Emory – 404-500-1026
Atlanta (Dunwoody) – 770-394-9499
Milledgeville – 478-452-0578
Lake Oconee – 706-454-0578
Audiological Consultants of Atlanta
Atlanta (Buckhead) 404-351-4114
Atlanta (Sandy Springs) – 404-256-5194
Griffin – 770-229-6666
Duluth – 770-476-3005
Marietta – 678-560-0011
Roswell – 678-461-6366
EarEverything
L. Dawn Flinn

Indianapolis
888-327-2131
317-514-9584 – Email
Bloomington ENT
Jamie Vittum
Bloomington
812-335-1300
North Bend Medical Centers
Marci K. Lund, Au.D.

Coos Bay
541-267-5151, x1217 or x1518 – Email
Pacific University – Pacific EarClinic
Matthew Bell, Au.D.

Hillsboro
503-352-2692 – Email
OHSU SoundSource
Shelly Boelter, Au.D., CCC-A

Curtis Hartling, Au.D., CCC-A

Portland
503-418-2555
– Email Dr. Boelter
– Email Dr. Hartling
Mt. Scott Audiology
Portland
503-233-5548
Salem Audiology Clinic, Inc.
Carol I. Sayre, AuD
Salem
503-877-1684
Pennsylvania Ear Institute of Salus University
Rebecca Blaha, Au.D., CCC-A

Greg Genna, Au.D., CCC-A

Elkins Park
215-780-3180 – Email Dr. Blaha – Email Dr. Genna
Main Line Audiology
Kathy Goodman

Narberth
610-667-3277 – Email
Earmark Hearing Conservation
Frank Wartinger, Au.D.

Philadelphia
267-551-1085 – Email
ABC Hearing Net
Dr. Judith Curtin, Au.D.

West Chester
610-431-2411 – Email
A Better Hearing Experience
Marilyn Enock
Pittsburgh
412-521-5890
Hearing Aid Dept. UENTS/UPMC
Pittsburgh
412-647-2030
Audiology & Hearing Aid
Scranton
570-343-7710
Sumter Hearing Associates
Sumter
803-469-7770
Franklin Hearing Center
Jill C. Kassinger, Au.D.

Franklin
615-807-1274 – Email
Ears 4 U Hearing Services
Rebecca Grome, Au.D.

Nashville
615-327-8102 – Email
Hearing Services of Nashville
Andrea West-Alderson, Au.D.
Nashville
615-673-6100
RK Audiology
Paula Rivers and Janet Krueger

Austin
512-704-7447 – Email
Advanced Hearing Center
Marilyn M. Hinrichs, Au.D., CCC-A

Dallas
972-733-3344 – Email
UT Dallas - Callier Center
Shawna Jackson, Au.D.

Dallas, Richardson
214-905-3154 – Email
Colorful Hearing
Rebecca Taylor, PhD, ThD

Denton
940-387-3330 – Email
Lisa Christensen

Fort Worth / Keller
501-529-9980 – Email
Audiology Providers
Jamie Holden, Au.D.

Frisco
214-705-9994 – Email
Today's Hearing
Mary Sue Harrison Au.D.

Houston
281-578-7500 – Email
All About Hearing
Sally Reyes, Au.D.

Midland
432-689-2220 – Email
Victory Hearing & Balance
Jill Davis, Au.D.

West Lake Hills/Austin
512-443-3500 – Email
Austin Ear Nose & Throat
Austin
512-444-7944
Family Audiology
Celia Kindred, Au.D.
Plano, TX
972-943-0466
Alamo Hearing
Holly Foley
San Antonio
210-614-3751
Virginia Hearing Consultants
Theresa Bartlett, Au.D.

Norfolk
757-461-4327 – Email
Audiology Hearing Aid Associates
Dr. Danny W. Gnewikow, Ph.D.
Danville
434-799-6788
Vienna-Fair Oaks Hearing & Speech Center
Elizabeth Hoehl
Vienna
703-938-5060
Dr. Hinkle & Associates
Harrisonburg
540-434-3977
Hearing Services of Virginia
Molly Howlett, Au.D.
Virginia Beach
757-962-2326
Hearing Clinics of Virginia
Kevin Holt
Richmond
804-353-9780
Puget Sound Hearing & Balance
Iris Langham / Mika Bennett
Seattle
206-523-5584
Audible Difference
Veronica Heide

Madison
608-273-3036 – Email
Midwest Audiology Center
Doug Kloss

Milwaukee WI
414-281-8300 – Email
Gold Circle Audiologists
Our Gold Circle Audiologists have been personally trained by Sensaphonics president Michael Santucci in meeting the needs of music industry clients, and have extensive personal experience working with musicians and sound engineers.
Worldwide audiologists
Here are a few audiologists we've worked with in other countries.
Musicians' Clinic at Audiology Centre West
Sylvie Auger, M.O.A., F-AAA

Montreal
514-507-7964 – Email
Highland Hearing Clinic
Sheri MacGregor

Port Hawkesbury
Nova Scotia
902-625-0617 – Email
Musicians Clinics of Canada
Marshall Chasin

Toronto ONT
416-966-8742 – Email
The Hearing Source
Dr. Edmond Ayvazyan

Toronto and Scarborough ONT
416-463-4327 – Email
The Hearing Clinic

Mandy Rhody
Walkerton ONT
519-881-4994 – Email
Louis Kanavos

Windsor ONT
519-817-3456 – Email
East York Hearing Centre
Rhonda Martin
Toronto
416-466-9866
Hearing Healthcare Ireland Ltd.
Paul Hussey
Dublin
(+353) 1-872-6893
Frank Cass & Sons
John Cass
Dublin 6W
(+353) 1-492-1506
Northside Audiology
Chatswood, NSW
(+61) 02 9419 6999
Ears To You
Mascot, NSW
(+61) 409 600 278
Enjoy Your Music. Enjoy Your Life. Don't Destroy Your Hearing.
Contact us today to request an appointment or for help in finding an audiologist near you.